BentoSpace enables a sustainable urban living in compact high-tech units which are easy to relocate between different sites. BentoSpace units are developed to temporary (3-9 years) activate unused land plots for living and commercial functions. 80% - 90% of the investment stays reusable and movable between different locations.
The units are based on a sustainable, energy efficient concept and equipped with smart building technologies. The module walls and ceilings are insulated and equipped with an external envelop to reduce the sun heat gain.
BentoSpace is using used shipping containers, all modules are prefabricated in Bangkok.
urban living
using temporary unused spots in the urban fabric
sustainability
energy efficiency, renewable materials, small footprint
swiss design
Swiss designed & engineered, locally produced
smart home
usage of smart building technologies
economical
less construction costs, faster construction, moveable
Modules
The BentoSpace units are based on 20" and 40' shipping containers and can be combined horizontally and vertically to larger units. One or two bedrooms, one or two floors with optional two-story high living spaces and rooftop terrace are possible options.
Swiss designed & engineered, locally produced
Design & Construction
Designed and engineered by Swiss Architects, BentoSpace units are the result of a contemporary minimal design approach, combined with efficient but homely layouts. Construction details are carefully designed to maximize the lifespan of the units. Sustainable eco design and the use of state of the art technology are both integral part of the BentoSpace design process.
Design powered by regroup architecture (www.regroup.asia)
The manufacturing process of the units is indoor in a factory accompanied by a close quality surveillance to keep the construction quality on a high level. This pre fabrication process enables the shortest construction time possible and unexpected delays can be avoided. Production is located in Bangkok Thailand.
Manufactured on demand enables maximal adaptability of the standard module types to personal preferences and site requirements.
Site & Land Use
Its modular structure allows BentoSpace to utilize small leftover plots, medium or large sized sites. BentoSpace modules can even get integrated within existing structures.
The modules can be transported on the street without any special permission. The foundations will be built locally on each individual site, the facade and roof is modular and assembled on site.
Sustainability
BentoSpace is committed to sustainable and eco friendly design without loosing any convenience of the modern lifestyle. We are using ecotool to assess and design the BentoSpace units. ecotool is an adoptable system to improve the project sustainability in the context of South East Asia.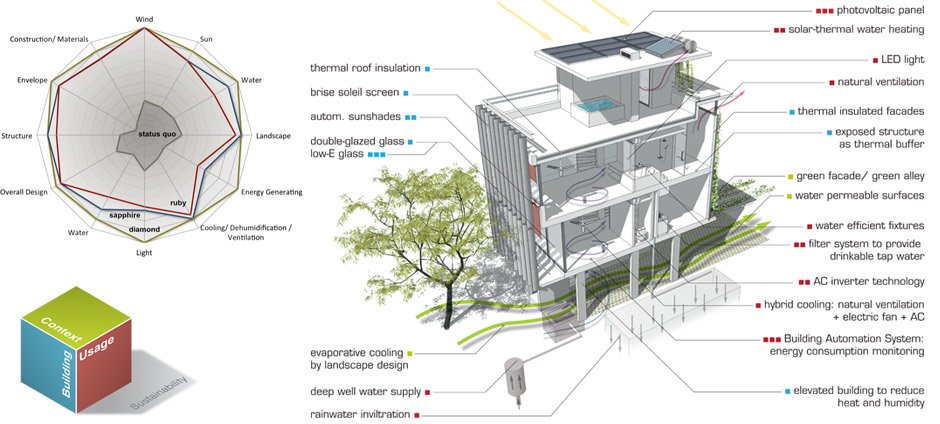 Smart home
BentoSpace is integrating dS (digitalStrom) to control und manage your home. 
From individual light ambiances to more energy efficiency and security in the house, there is almost nothing you can't control and automate with digitalSTROM. It enables you to define mood lighting very easily – using just one switch or your smartphone. Say yes to more atmosphere at home.
Buying & Investing
Please contact us to get an offer for your bentospace home or investment. Our office is located in Bangkok Thailand.